It's time for Thankful on Paper: Week 2.
This week, I really thought about to whom I wanted to express my gratitude. There are so many in my life, I may have to extent this project past just four.
But for now, I chose my best friend for the past 15 years.
Michele was with me before this crazy life I call my own, before my marriage, before my kids, before the Army. We met in college and instantly hit if off. I am so happy she chose to put forth the effort to stay in my life even though we were constantly moving around the country. It didn't hurt that she loves to travel as much as I do.
She walked with me through many trials and a whole lot of triumphs. We have really had some good times together.
She's been there for the birth of all my babies.
Trina at 1 month
Josh at 4 months
Jamie at 1 day
I've seen her kids grow up.
And she's seen mine.
She has taught my kids a lot through the years.
Both good...
And bad.
I am so thankful she's been in my life. I know that no matter how far apart we are in miles, no matter how long it's been since we have visited one another, we will always be best friends.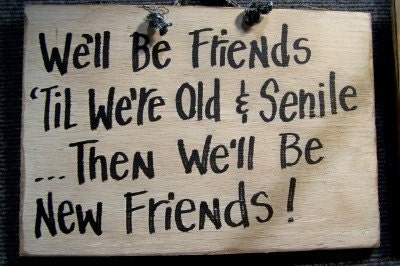 Yep, that just about sums it up!